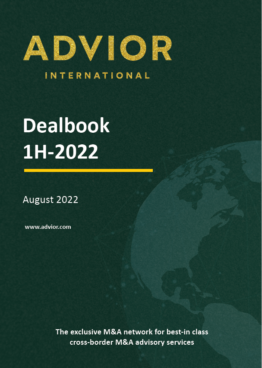 While 2021 was a stellar year for Advior International, the first half of 2022 was again the best in history in a (still) very strong M&A market.
Major headwinds such as increasing interest rates, soaring inflation, supply chain challenges, and the war in Ukraine have contributed to an overall decline in observed valuation levels across multiple sectors. Despite this, our Members are working off robust deal pipelines.
We are publishing our Dealbook 1H 2022 to reflect on the hard work, our achievements of the year so far, to highlight our cross-border track record, and to reflect on the key trends in the markets which will drive deal activities across our sectors over the coming months.